Netflix and Chill
If you were to hit up a broad on Tinder and offer up an evening of "Netflix and Chill" you'd probably end up with a very quickly ended conversation. Even the girls that say they just want "short term fun" will often skip out on that message. Which is crazy, right? Like, what gives? 
It's a headache to try and figure out (although maybe referring to them as broad or dame should stay in the 1940s), so don't even bother. Instead, give our of our escorts a call and she will come right over. Best of all, we have plenty of girls who are all about Netflix and Chill.
Massage
Oh buddy, are you in for a world of pleasure. Now, we love a good massage at the spa. Personally, we like the massages where they really get into the knots. You know, the one where you're holding back screams? Through pain comes pleasure. But that's not the kind of massage you should be getting with our escorts. 
Want a painful, knot-riding massage? Go to the hotel spa. Want a seductively sensual massage from a bombshell woman? That's what an escort is going to give you. But what kind of massage is she able to deliver? The better question is what kind CAN'T she give. 
There are the classics, like deep tissue or Thai massages. Or, you can go with the funner options, like a NURU massage. This is a Japanese style of massage that uses a special lubrication that helps distribute body heat. During the massage, your escort will lather your naked body up with her hands, and then use her naked body and the heat it generates to soften up your muscles. It's like a hot stone massage with tits and ass. Sure beats the hell out of rocks, right?
You just have to let us know which girl is the one for you. Not sure? Not a problem. We can help you select a deliciously perfect girl for your needs.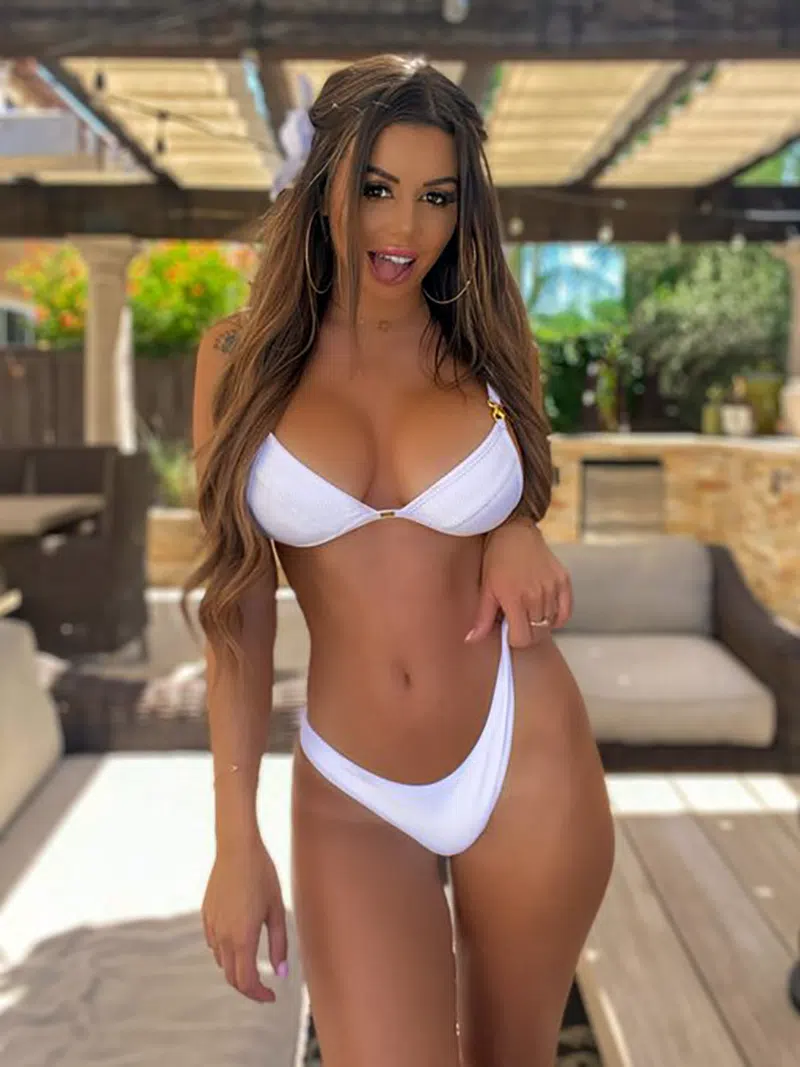 Naughty Sex Toy Show
There are some pretty wild sex toys out there. Walking through a sex shop, looking at the toys, can feel like you're in some super secret military installation run by a general that really loves pink and purple. Hell, even try to pick something up and someone behind a desk is going to call out, "No touching!" Maybe you've seen a toy, are not sure how it works, and would love some kind of a demonstration. 
Our girls would love to show you exactly how the toys work. While they are at it, maybe they have some secret talents of their own. You can always ask about those talents when setting up the sext toys show. Who knows. Maybe you can try out your own toy on yourself during the demonstration. Can't hurt to ask, right?
Classic Stripper Shows
There is really nothing as "Vegas" as strippers. It's the classic go-to. Maybe that's all you really want. Perhaps it is for a bachelor party, or maybe it's for a party of one. It doesn't matter. If you're interested in strippers then strippers is what you will receive. 
Strippers are easy enough to come by when visiting different places around Vegas. There are so many strip club venues around the city you'll have no problem finding strippers. The problem though is unless you're constantly raining cash on a particular girl you're not going to be able to keep her interest and she'll wander away like a kid running after a stranger in a truck with candy. 
However, if you hire an escort stripper, she is all yours for that amount of time, and in the end, the amount of money you pay for a dedicated stripper will likely end up being less than what you would pay for an hour of VIP time at the strip club (not to mention the drinks made up in your hotel room will absolutely be more affordable). 
Get Your Kinks In
Have a bit of a kink or fetish you've wanted to play out but have never actually been able to live it out? Maybe you have a fantasy or finally experiencing BDSM, or you just want to dip your bald head in oil and rub it all over someone's body. Whatever floats your boat, right? Well, these are things you can't always just talk to someone about. You can't just show up and whip out the gimp suit in front of a new girlfriend. That's a pretty big roll of the dice, and it's one you might not win. 
Thankfully, here in Vegas, while the casino dice might not always be in your favor, the escorts always are. So, if there is some kind of fetish you have and you've never had the opportunity to live it out, our girls will likely be able to make it happen. As long as there's nothing dangerous or the chance of someone getting hurt, your kink is our command. 
We can even connect you with women who excel in the kind of fetish you have. Whether you love big feet or you want an Amazonian to sit on you, we have you covered. So give us a call. We'll make your dreams come true, and all in the comfort of your hotel room.